Ceramic Tile in Corpus Christi, TX
Add value and beauty to your home when you upgrade your floor with our affordable and long-lasting ceramic tile. When you choose your new ceramic tile flooring from our huge inventory of products, you can breathe life into any room of your home. In addition to enabling unique floor designs in a wide array of styles and colors, our ceramic floor tiles offer a significant boost to the resale price for your home.
Enjoy the Ceramic Tile Advantage
Your new ceramic tile floor presents a number of distinct advantages over popular flooring materials such as carpet, hardwood, and stone. Glazed and sealed ceramics are virtually impenetrable by liquid, offering an unmatched level of performance and stain resistance. With its natural resistance to moisture, ceramic is a longstanding favorite for kitchens and bathrooms, and the modern tile choices available deliver a more natural appearance than laminate or vinyl tile.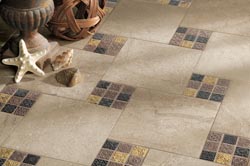 Where ceramic particularly shines is in the low level of care and maintenance necessary to keep it in showroom condition. Routine care usually involves a brisk sweep, vacuuming with a brush attachment, or an occasional mop job with cleaners that are available at any retailer. Applying a sealant every few years promotes a hardiness that keeps your tile vibrant for a lifetime and offers significant savings over the cost of reconditioning wood, carpet, or stone.
Distinctive Ceramic Tile Flooring
Add elegance to every corner of your home with new ceramic tile flooring. Though it is still a leading choice for kitchens and bathrooms, any of the modern styles in our ceramic tile collection offer a great way to add a fresh look to your hallways and living spaces. Our product lines feature distinguished textures, finishes, and hues that suit every decor.
In addition to our attractive selection of colors and patterns, our ceramic flooring is available in a variety of sizes. This versatility empowers you to develop a plan for your new floor that is limited only by your floor plan and creativity. Tile flooring offers the flexibility to explore layouts that vary from the traditional checkerboard designs to elaborate diagonal patterns featuring subway tile.
Professionally Installed Ceramic Floor Tiles
Beyond being beautiful, affordable, and simple to maintain, ceramic floor tiles are easy to install as well. Each tile is standardized and tested for uniformity, meaning you will enjoy clean grout lines and less waste from irregular pieces. With its fiber mesh backing, ceramic holds tight to your subfloor and makes for a beginner-friendly DIY flooring project. However, when installed with precision by seasoned flooring experts, your new floor will truly be a showpiece with the appearance and durability that adds lasting property value.
Upgrade to a Tile Floor Made of Ceramic
A tile floor made of ceramic is a rewarding home improvement in many ways. Whether you wish to wow your neighbors or spend less time cleaning your home, tile is an excellent choice. Above all else, tile is a rewarding investment. In most cases, upgrading to a quality tile floor will increase your home's potential equity by thousands of dollars. If you're considering selling your home, stun your prospective homebuyers with a well-designed and distinguished tile floor.
---
Contact us today, and allow our ceramic tile experts to help you find the right flooring for your home. Discover why our selection and experience have made us the most recommended flooring store in Corpus Christi, Texas.