Versatile Vinyl Flooring in Corpus Christi, TX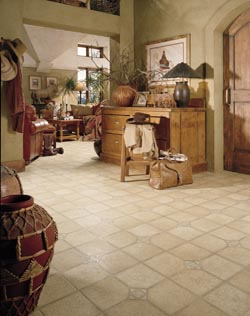 It's your home -- you shouldn't have to settle for getting anything less than exactly what you want. Thanks to the versatility of vinyl, you can achieve your ideal look while also enjoying remarkable resilience and saving money to put towards other home improvements. Visit Allison Flooring America to explore our wide range of vinyl flooring in Corpus Christi, TX, and discover the perfect surface for your dream home.
Vinyl: It's Better Than Ever
Many shoppers have outdated notions about vinyl. Thanks to numerous manufacturing advancements in recent years, vinyl now offers more than ever before. For example, not only is vinyl gorgeous on its own merits, but also it can replicate the appearance of other flooring materials, such as wood and stone. With vinyl tile flooring or plank flooring, you get the same natural look as hardwood or tile at a fraction of the price.
Likewise, vinyl provides the water- and stain-resistance homeowners need in their kitchens, bathrooms, and laundry rooms. It's specially constructed to stand up well to foot traffic and other daily wear and tear. Vinyl surfaces are also ideal for busy households since they are quick to clean and don't require a lot of attention.
Finally, the versatility of vinyl allows it to please people of all tastes. Whether you prefer bold, modern looks or traditional elegance, there is a product for you. Explore our showroom to see all of the options available and discover your ideal vinyl tile, vinyl plank, or vinyl sheet flooring.
Easy Maintenance That Fits Your Life
You're already busy enough with keeping your home in order; the last thing you need is to add more cleaning to your never-ending to-do list. Fortunately, vinyl requires no additional care beyond routine sweeping, vacuuming, and damp mopping.
Simply sweep or vacuum your vinyl surface to keep it clean day to day. For stains, a little mopping usually suffices to lift the grime away. You may also want to occasionally use a gentle cleaner for a like-new appearance. Talk to our team to learn about specific maintenance recommendations for our vinyl plank flooring and other vinyl products.
Leave Installation to Our Team
Ensure your new vinyl floor looks just as good in your home as it did in our showroom by hiring our team. We're pleased to provide professional installation for every flooring product we sell. Count on our crew to have your updated surface in place in no time at all.

Contact us to learn more about our vinyl products. We proudly serve clients from throughout Corpus Christi, Port Aransas, Sinton, Mathis, and Calallen, Texas, as well as the surrounding areas.