Tile Flooring in Corpus Christi, TX
Improve the interior of your home with new tile flooring in Corpus Christi, TX. Tile is the affordable solution to enhancing any space. We offer a variety of options based on the look you want to achieve, from the size and shape of the tile to the color and texture. Choose from the following tile types:
Match the theme of your home's décor with the perfect tile selection, down to the exact design you want. Tile floors offer sleek and modern looks for contemporary houses, as well as rich and classic appeal for more traditional homes. Our experts also provide professional tile flooring installation to ensure everything is placed correctly and evenly.
Versatile & Cost-Effective Ceramic Tile
Commonly used for floors in bathrooms and kitchens, ceramic tile is usually made from clay, sand, or glass, making it environmentally friendly. If you prefer a green home, this is the right tile floor for you. It also keeps cool and helps to reduce the costs of utility bills. On top of that, ceramic is fire resistant, so these tiles do not burn or emit toxic fumes.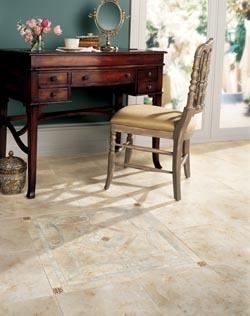 Allergens do not stick to ceramic tile, so the air quality of your home is improved overall to reduce any health risks to you and your family. This kind of tile does not fade in color from direct exposure to sunlight, so the beautiful design you choose lasts far into the future. As a practical and functional flooring option, a tile floor made of ceramic also increases the value of your home.
Porcelain Tile Is Hard & Dense
Porcelain tile is made of fine, dense clay, which is durable and scratch-resistant. For this reason, it is recommended in high-traffic areas of the home and is also a popular flooring choice for outdoor areas. There are also an endless amount of design possibilities available. Because it holds up well under daily wear and tear, it maintains its attractive appearance for many years to come.
Porcelain is one of the top choices for bathroom flooring because it does not absorb moisture. It is so dense that it does not freeze in the winter, so you do not have to worry about your floor cracking. In addition, this type of flooring does not stain, so it even works great in kitchens. Because it is a non-porous material, it also does not retain bacteria.
Stylish Slate Tile
Slate tile is fabricated using small pieces of silt and clay at high temperatures to give it a versatile surface that is easy to maintain. If properly maintained, it can last for up to 50 years—and its beauty is timeless. The smooth texture makes it comfortable to walk on and perfect for any room in your home. There are several finishes to choose from, including:
Natural Cleft
Honed or Sandblasted
Penetrating Seal
If you want a rougher surface to reduce the risk of slipping and falling, choose the natural cleft finish. For a slick look and feel, select a honed or sandblasted finish. Make your floors shine with the wet look of a penetrating seal finish over the tile. Slate retains heat instead of cold, so it is great for homes in colder climates, particularly in bathrooms.
---
Contact us today to determine which tile flooring option is right for you and your home. We serve the people of Corpus Christi, Port Aransas, Sinton, Mathis, Calallen, TX, and the surrounding areas.